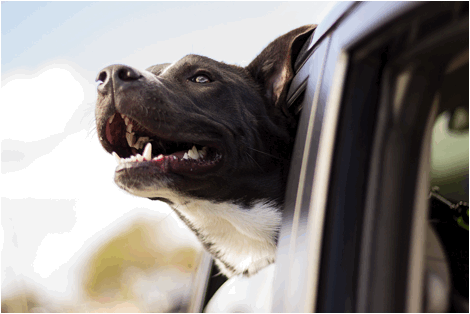 You might think that the hardest part of moving with your pets is calming their nerves in the new house, and while it certainly can be a challenge, that's only half the battle. When it comes to moving to a new house with pets, homeowners must consider not only how their pets will cope after the move is over, but also how they'll deal with the moving process itself.
Moving is inherently stressful for everyone. You have to find the perfect house in a pet-friendly neighborhood and navigate the complicated home-buying process; your realtor has to coordinate showings and mounds of paperwork; and the movers need to pack up your entire house without damaging anything. In all the hubbub, people don't always remember that the moving process is difficult for their pets as well.
Moving day can induce anxiety in normally calm and well-behaved dogs and cats. Separation anxiety can emerge when pets notice their home changing and don't understand why. Your dog may think you're leaving him behind and become clingy or act out, and your cat might hide or display destructive behaviors in response to sudden change. And the challenges go beyond packing. Open houses and schedule showings invite strangers into your home, upsetting shy pets and triggering misbehavior in excitable ones. And changing your schedule to fit in weekend house hunting disrupts your pets' routines, too.
So how can a homeowner who's getting ready to sell minimize pet stress without making the moving process more difficult for herself? These tips can help:
House Hunting
Leave pets home when viewing properties. You never know when a homeowner might be allergic, have a fear or dislike of animals, or own pets that aren't dog-friendly. If you want to take your pet, arrange to do so during a private home showing, not an open house, and make sure your dog is well-mannered.
If you find an open house while out with your dog, take the time to bring him home or ask a friend to watch him while you take a quick look and get the selling agents' contact information.
When planning a long day of house hunting, hire a pet sitter to manage pet care. With someone else to manage feedings, medication, bathroom needs, and exercise, you can focus on your to-do list while your cat lounges and your dog has adventures at the French Broad River Dog Park or on the North Carolina Arboretum's hiking trails.
Selling Your Home
Arrange for pets to be out of the house when potential buyers are viewing your home. For cats, boarding is the best option. Dogs can head to a pet sitter's house or doggy daycare when an open house is scheduled. For shorter private showings, spend an hour or two on the patio of a local dog-friendly business, like Mayfel's or Wedge Brewing Company.
Keep your house clean of pet messes while your home is staged. Clean floors, linens, and pet bedding regularly to remove pet hair and odors, pick up toys and pet accessories before each showing, and keep the backyard and litter box clean of pet waste.
Store all signs of pet ownership out of view. Pets in a house could turn away allergic or otherwise pet-averse buyers before they've given your home a chance. While you should always disclose that your home holds pets if asked, there's no need to volunteer in the information in the earliest stages of selling.
Packing and Moving
Strategize packing so that small items are packed up gradually and the heavy lifting can be accomplished in one or two days. This method lets you hide changes from nervous pets until the last moment and limit the time your pets spend in a boarding facility.
Don't let pets get in the way of the moving crew. Pets are a tripping hazard for anyone carrying furniture and heavy boxes, and professional movers will appreciate not being barked at, hissed at, or jumped on while trying to work. Boarding pets during the busiest packing days also eliminates the possibility that they'll escape through an open door.
Moving is never easy, but as a pet owner and homeowner, you face a unique set of challenges. With this knowledge in hand, you can take on your next move with confidence.